The KC Knot
Spring 2021 | Kansas City, MO | in collaboration with: Sean O'Connor (M.Arch '21), Zhecui Zhang (M.Arch '21), Sophie Abo (IS and Public Policy), Raahil Reddy (Business) |
ULI Hines Competition Honorable Mention
The KC Knot envisions an East Village that embraces socioeconomic and racial diversity, encourages sustainable transportation, and supports equitable job growth and innovation. A series of complete street axes weave together communities that have been historically segregated by redlining and automobile-oriented development, creating a fertile ground for next-generation life science research and enterprises to take root. Altogether, the KC Knot lays the groundwork for the next generation of equitable economic development in downtown Kansas City.
Connectivity: Tying Together Kansas City.
The Study Area is currently an urban island surrounded by multi-lane highways that separate distinct neighborhoods and communities of Kansas City from its urban core. Kansas City's historic policies and past urban planning have created a fractured urban fabric through automobile-oriented development and redlining. The KC Knot seeks to create connections between the East Village, Paseo West, Columbus Heights, Downtown, and East Crossroads/Hospital Hill neighborhoods. Tied together by a series of pedestrian and bicycle-friendly axes and mixed-income housing, the KC Knot creates a vibrant common ground for these communities to live, work, play, and grow together.
Sustainability: Transit-Oriented Community.
Anchored by the newly constructed East Village Transit Center, the KC Knot challenges historic automobile-centric norms through transit-oriented design and development. The entrance to the KC Knot sits diagonally from the new Transit Center and hosts a multi-modal hub with RideKC bicycles and a drop-of zone for transportation network companies. The car-free Holmes Greenway runs along the spine of the KC Knot, connecting historically disenfranchised eastern neighborhoods with job opportunities via the 9th and Charlotte Street bike arterials. Limited underground automobile parking incentivizes visitors, employees, and residents to choose alternative modes of transportation when traveling to and from the site. The KC Knot will hire a Transportation Demand Management Coordinator to facilitate carpooling, commuter beneft programs, and alternative transportation education for resident and employee tenants. Building of of recent investment in the RideKC system, the KC Knot imagines a lively, sustainable downtown, and centers the importance of multimodal transportation in realizing that vision.
Life Sciences: Past, Present, and Future .
Honoring Kansas City's history as the heart of America's AgTech and Animal Health Corridor, the KC Knot reinvigorates this legacy with a focus on life science innovation. Addressing a demonstrated downtown need, new wet lab space enables full-time tenants and co-working innovators to advance their research enterprises. The life sciences promise to be a rich source of post-pandemic job growth, and the Sprout Workforce Development Center will ensure these opportunities are equitably distributed by training and placing residents from eastern neighborhoods in these new roles. The University of Missouri Kansas City's Ofce of Technology Commercialization, which supports University-afliated entrepreneurs and academics in commercializing their research, will also occupy several foors to participate in the downtown life science economy. To complement the KC Knot's life science cluster, the Science City's GROW Extension and the Cow Town Sculptures, designed by local community groups, ofer an accessible way for the public to experience and participate in the ongoing economic transformation.
Axonometric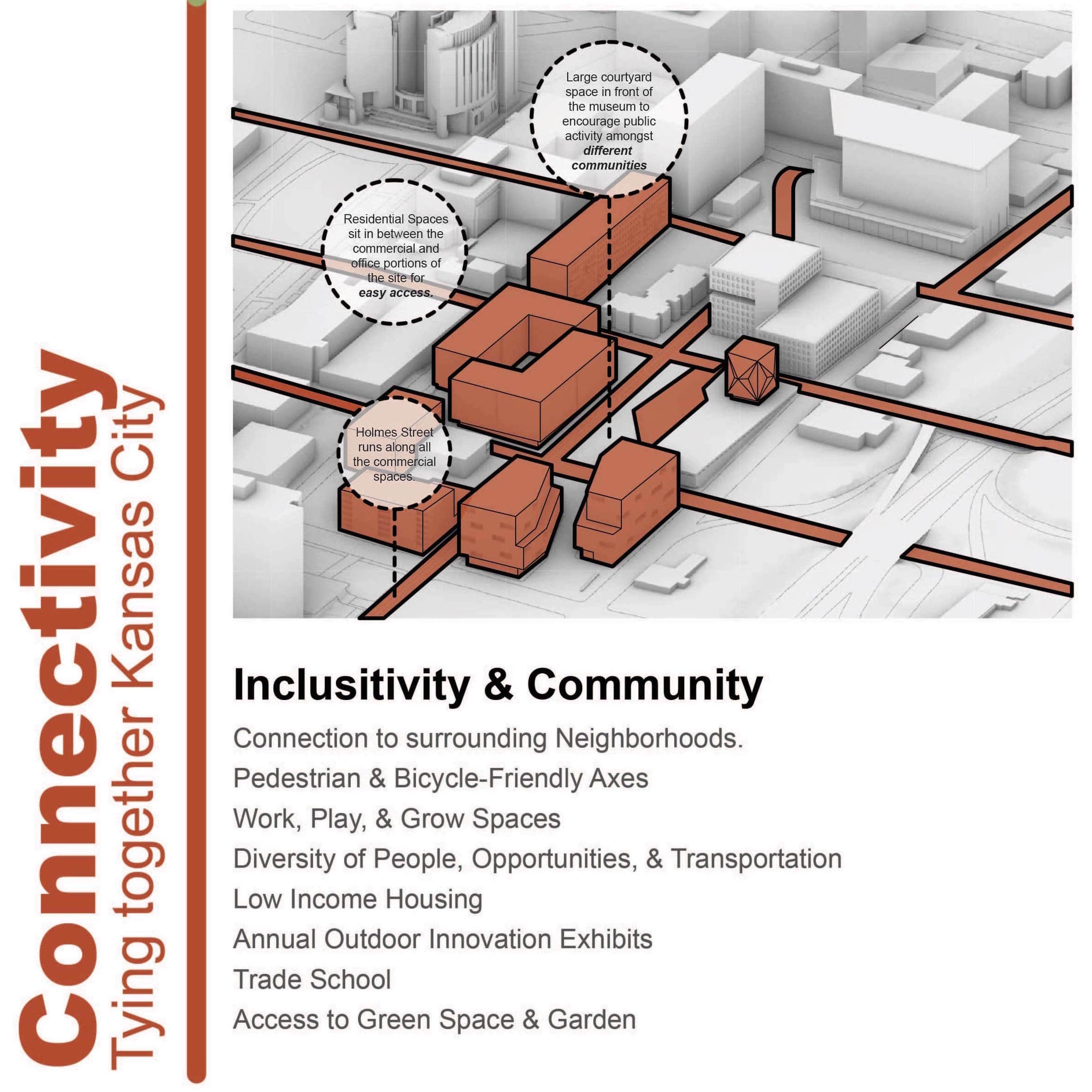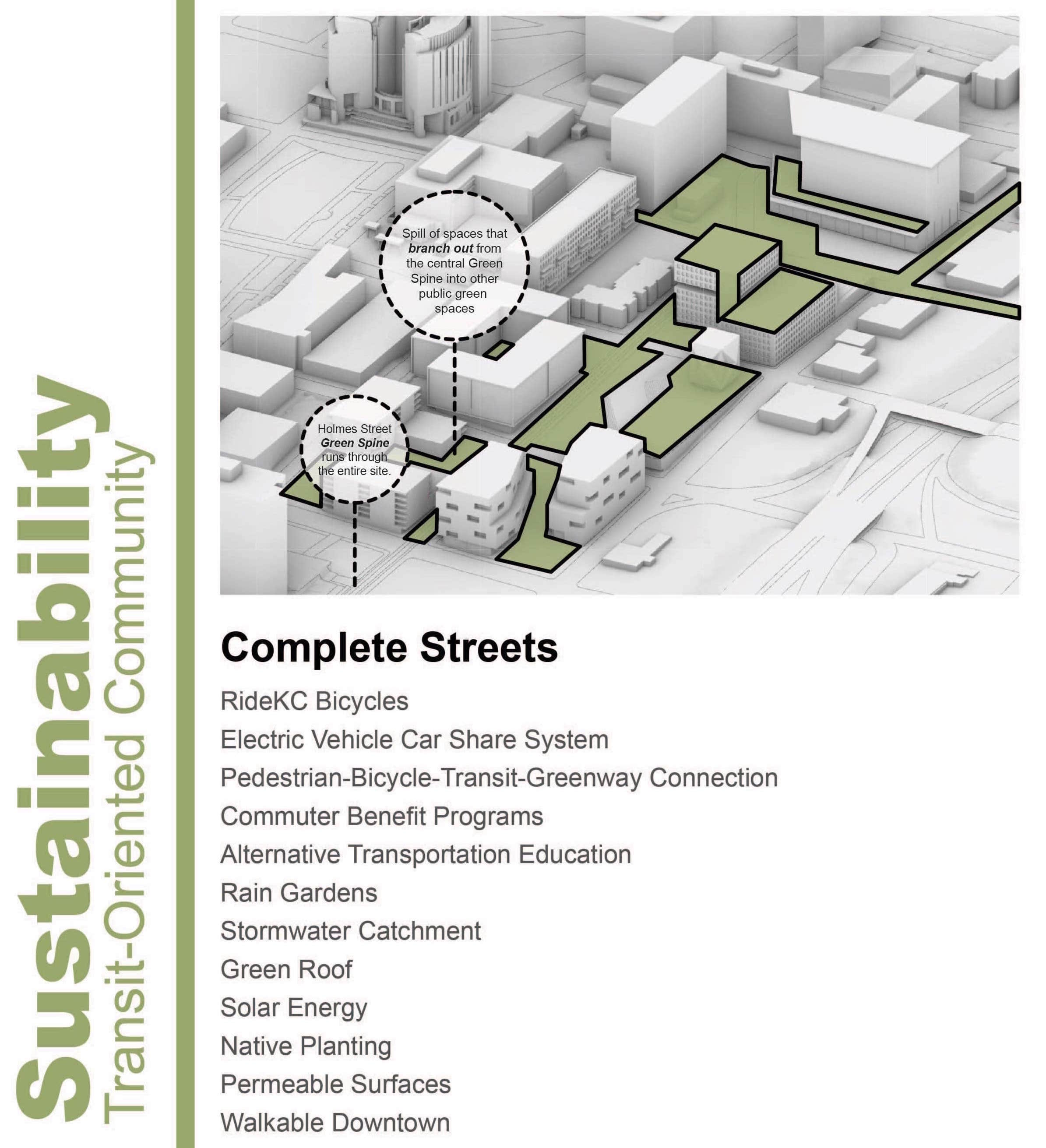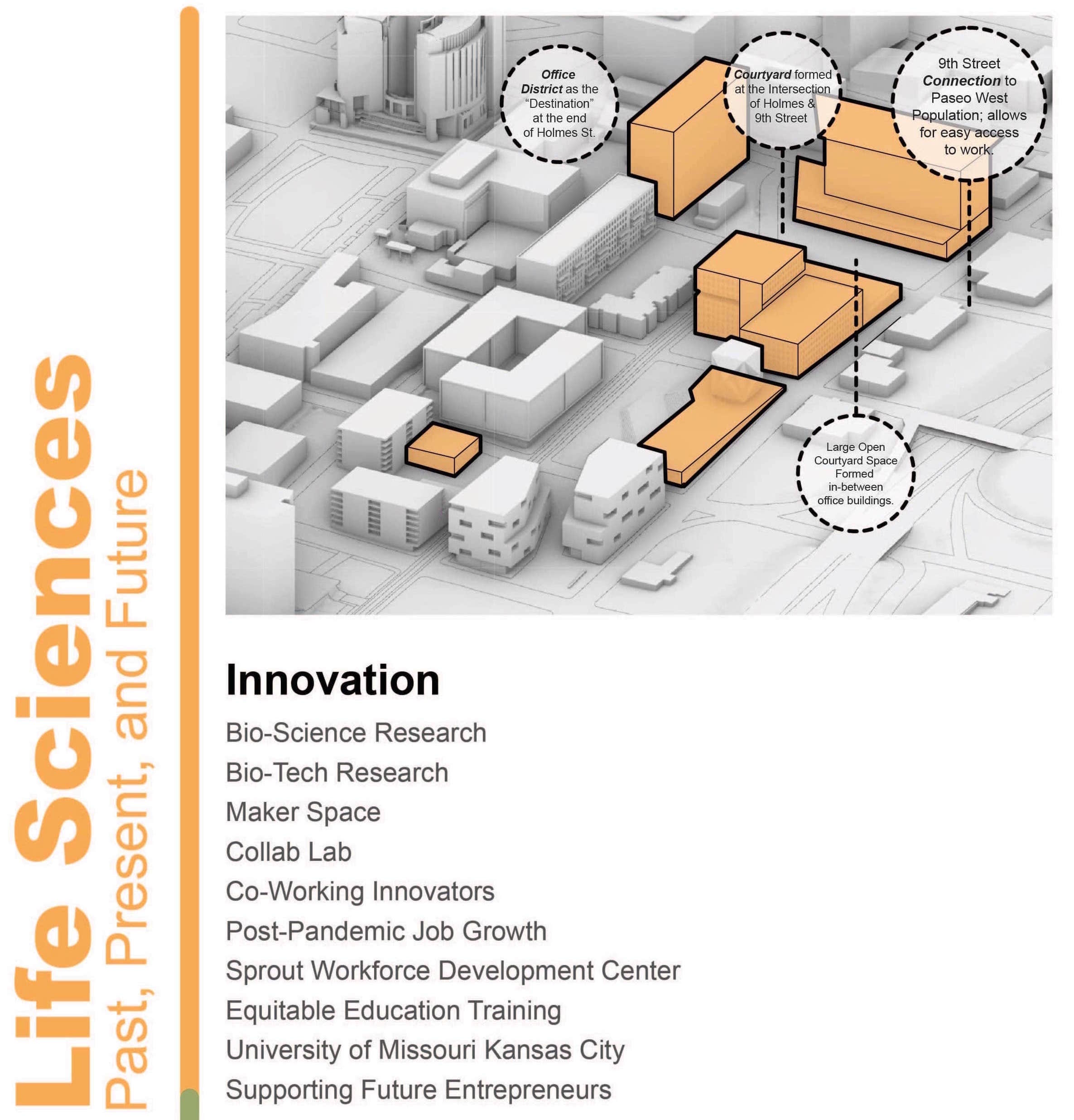 Three pillars of the project.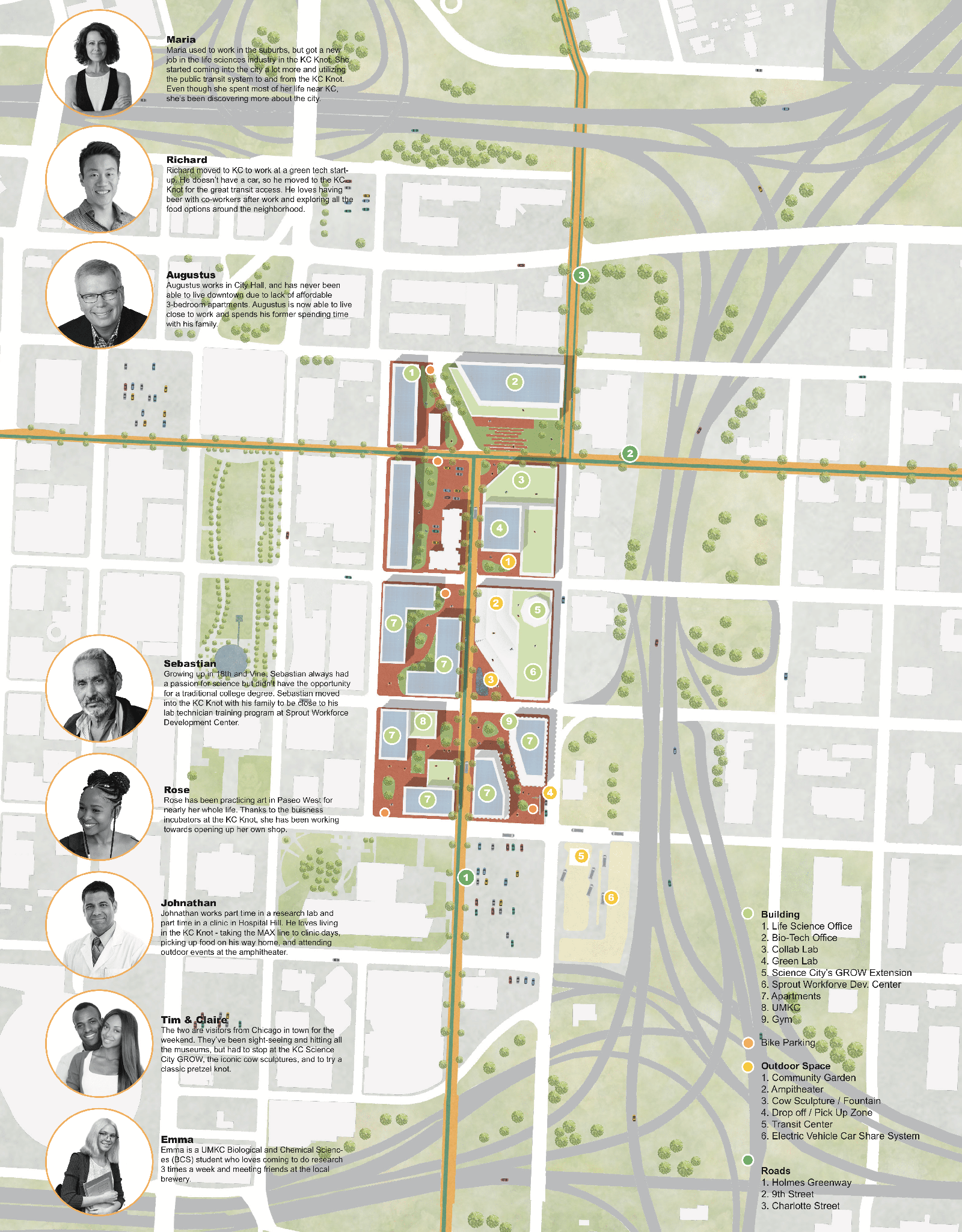 Site Plan & Visitors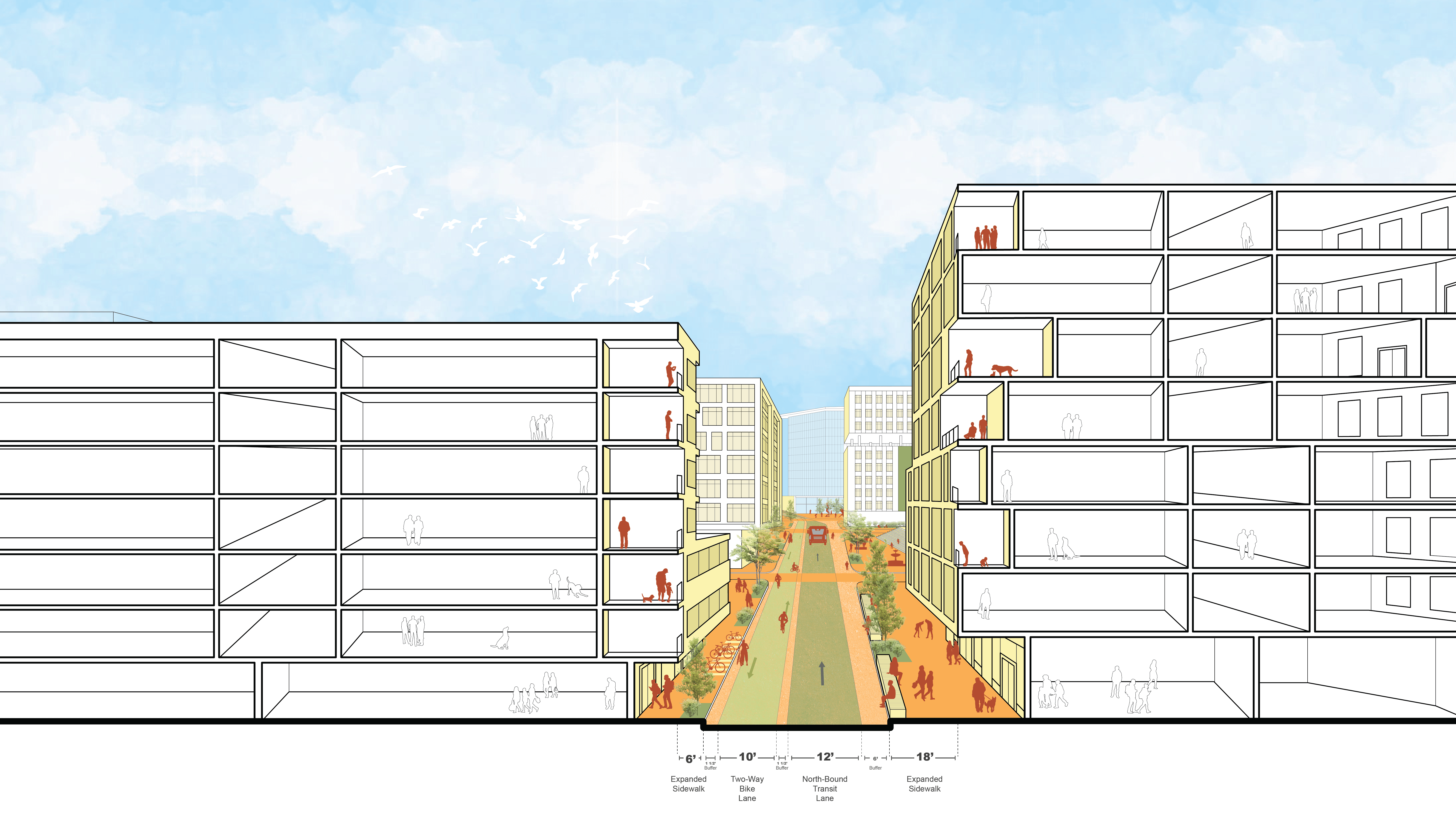 Holmes Greenway.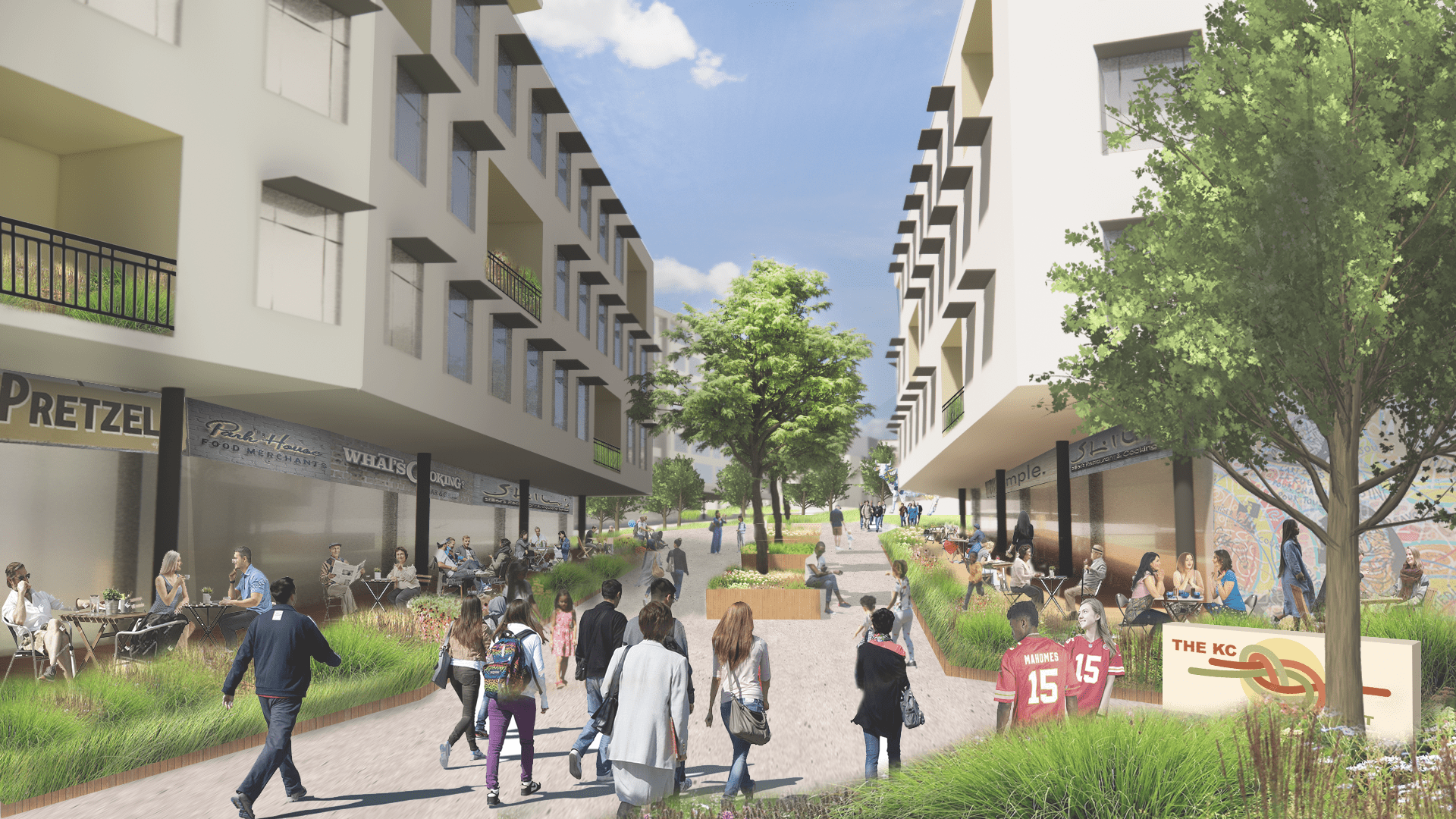 SouthEast Entrance to The KC Knot viewing the abundant restaurants.
SouthWest Enrance to The KC Knot viewing the Museum.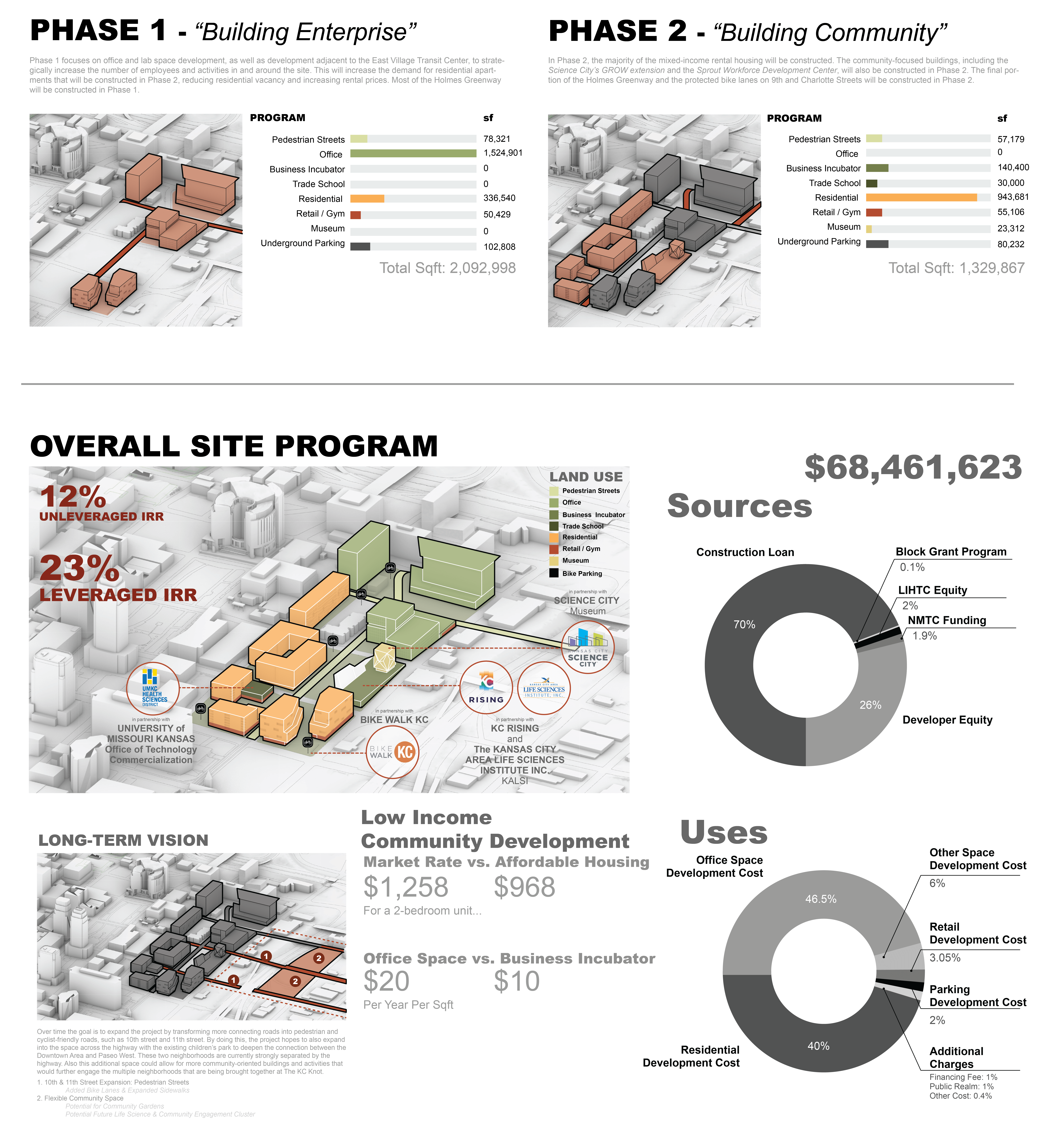 Phasing Diagram & the Financials.