Split House
Spring 2020 | Lithopic NOW Studio | Hazelwood, Pennsylvania | advised by Dana Cupkova | ACSA HERE+NOW Competition Entry
Split House is situated within the vertical topography of Pittsburgh's neighborhood "Hazelwood", which is prone to frequent landslides. Along with shifting and contaminated soils, Hazelwood's primary inhabitants belong to a racially diverse, underserved, economically and socially vulnerable demographic. Split House aims to enable a better future for the children of low-socioeconomic households by stabilizing the landscape into edible playscapes. 
Coming out of a research studio "Lithopic (Living Stone) House: Ecologies of Earthen Matter", that was led in conjunction with a material science seminar, the design approach is underpinned  by a potential of construction waste recycling through direct 3d binder-jet printing. This  cradle-to-cradle method would reduce CO2 levels by reducing the volume of new architectural materials, as well as offsetting waste streams heading to industrial landfills. Shaping printable components for minimal material use aligned with structural and ecological potential is coupled with a desire to integrate new landscape and biomass directly into the architectural form, function and experience.
Split House is a garden embedded into a hillside. It creates a form that allows flows of mud, water, and debris to be moved through, around, and over the entire structure, capturing the sediments into a new landform. Enforced by a central split that holds a stair-ramp circulatory greenhouse, this playscape manages natural flows, as well as it acts as a shared public space for families and for the community of Hazelwood.
This spatial organization of the house proposes co-living, co-sharing, and co-parenting. Double house reduces square footage by overlapping spaces to allow for co-parenting in conjunction with urban gardening and encourages collaborative decision- and place- making. 
Adequate housing is critical for determining the health and education of children. 49% of people that live in Hazelwood are families with children under the age of 18, with the median household income is $37,091. America struggles with creating "affordable housing" options because of the market pressure, causing homes to rise in price. However, by sharing space for parenting time overlaps, utilities and urban gardens could help lower the housing cost. 
VIEW DESIGN PROCESS DOCUMENTATION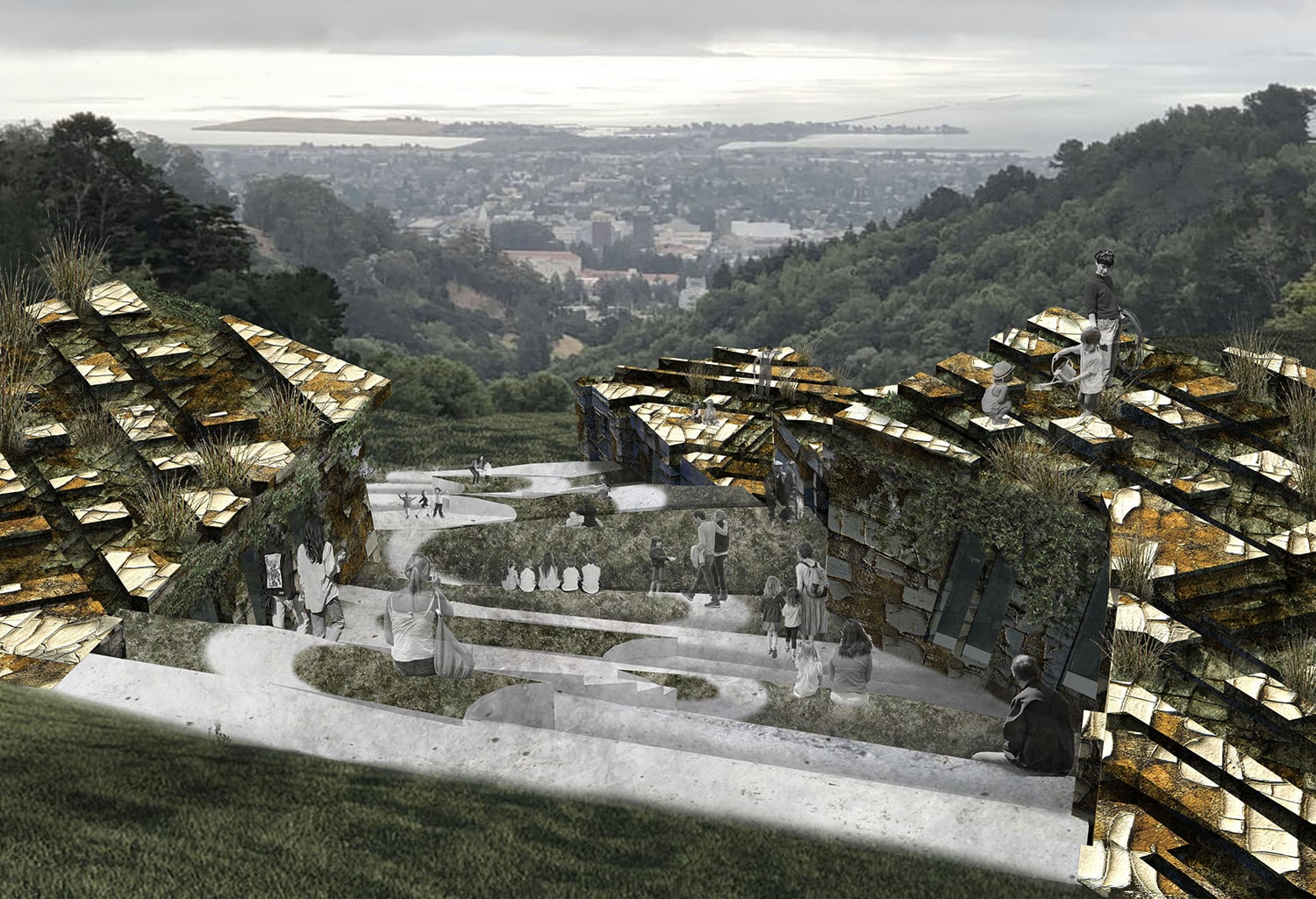 Top of Building Render.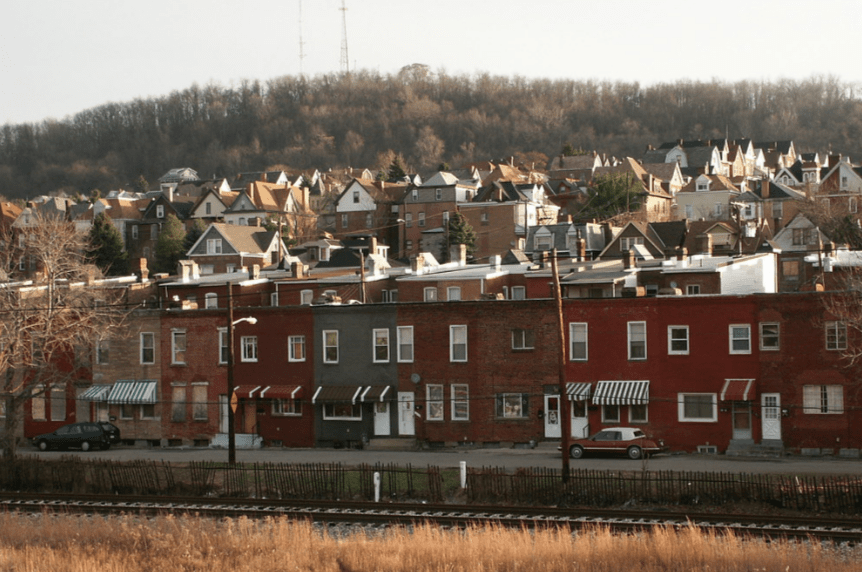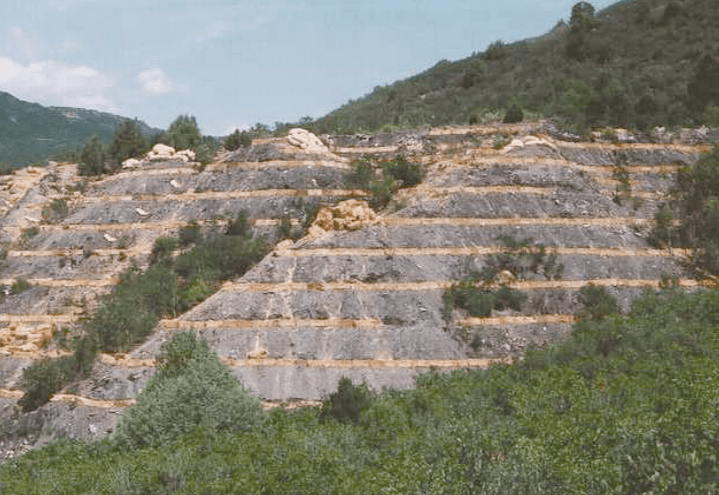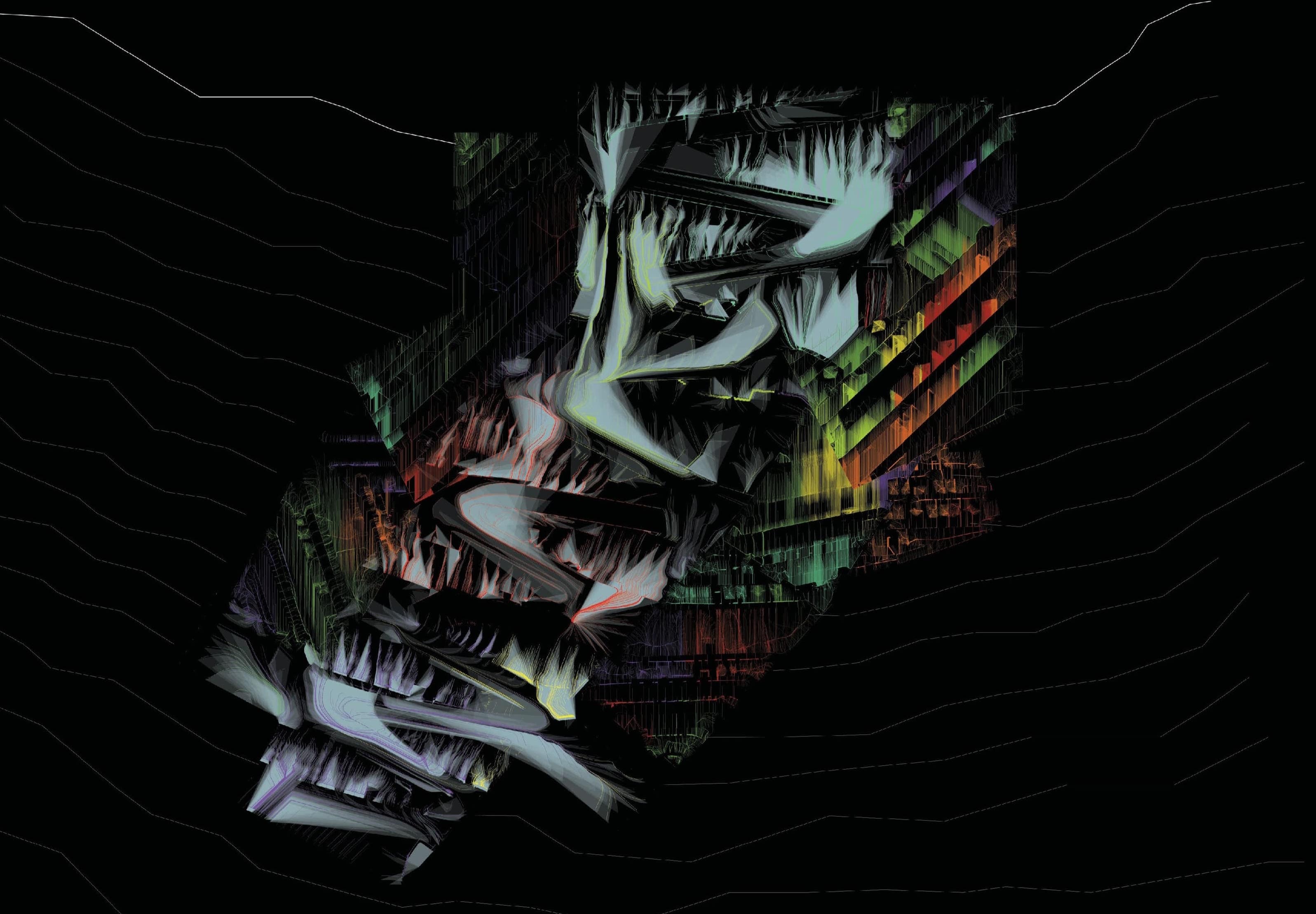 Residential Concept, Hillside Condition, Water Flow simulation of new house-landform.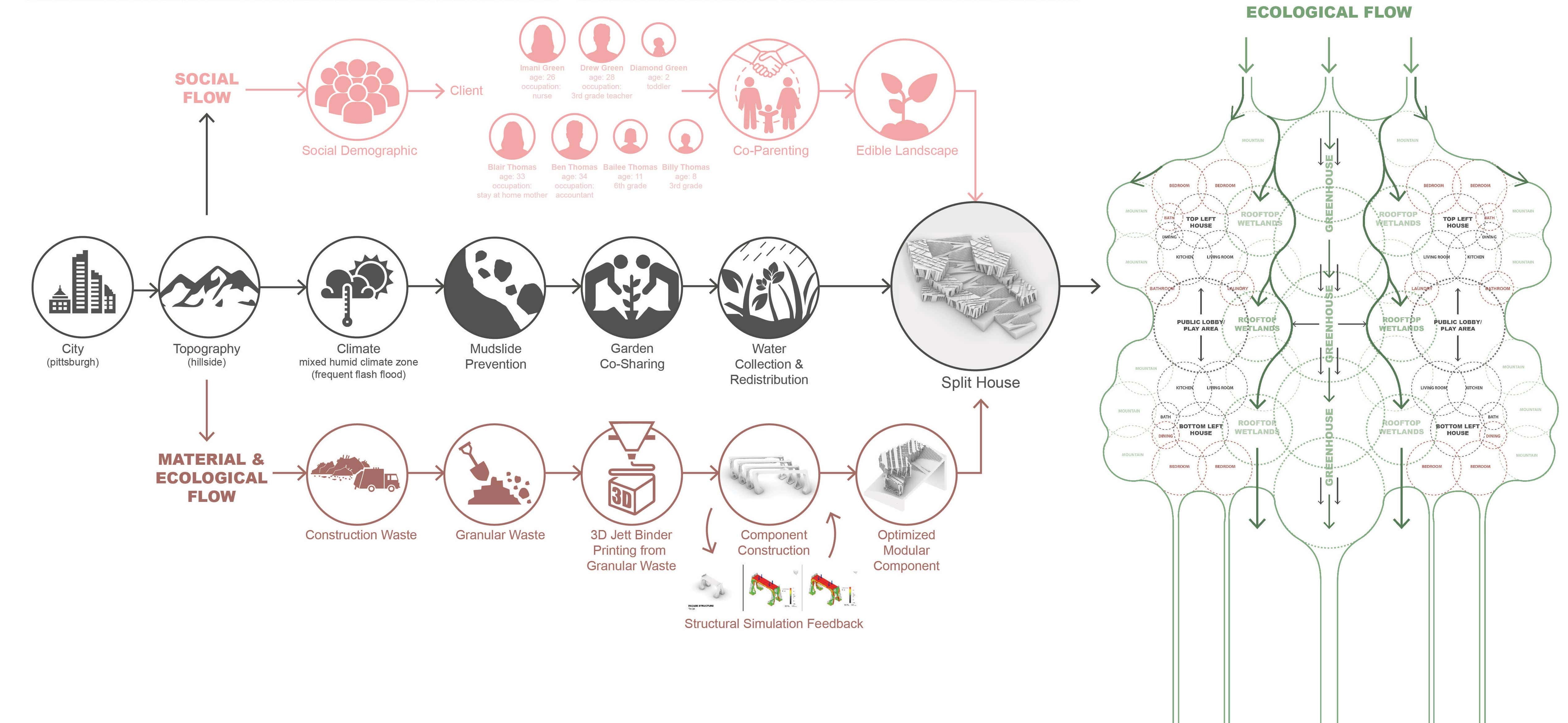 Plans (top, middle, bottom levels) and social conditions that take place throughout the architecture.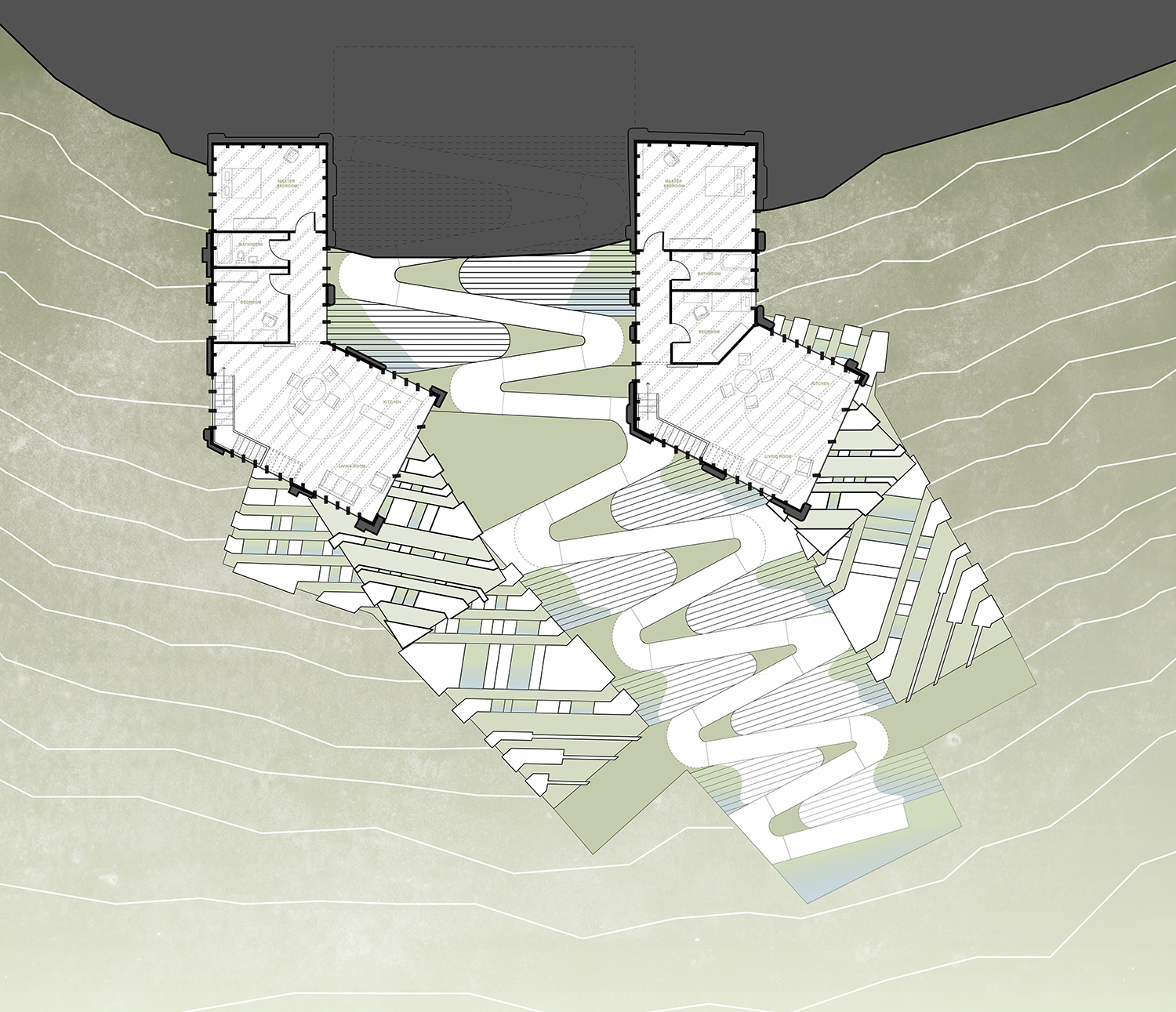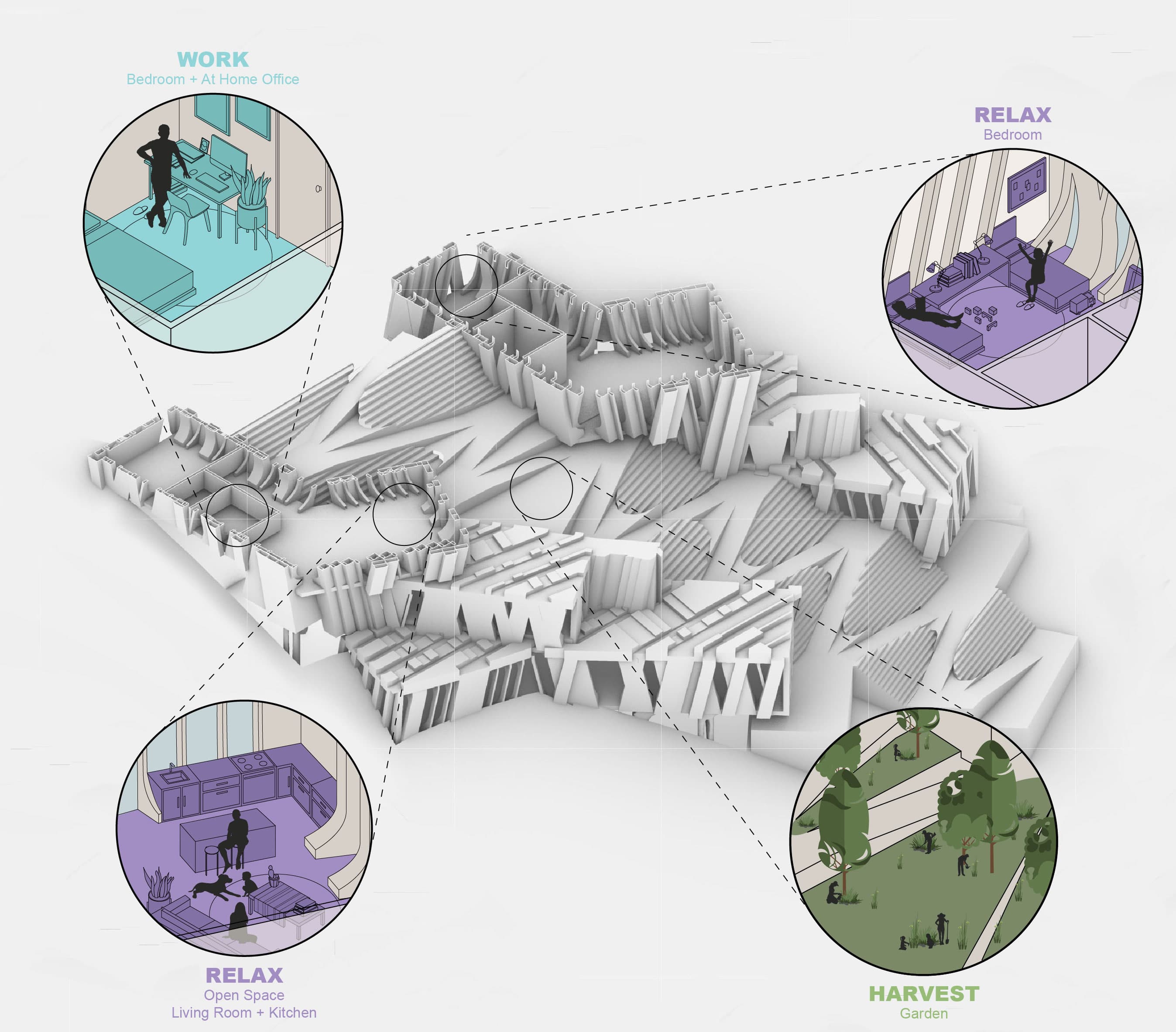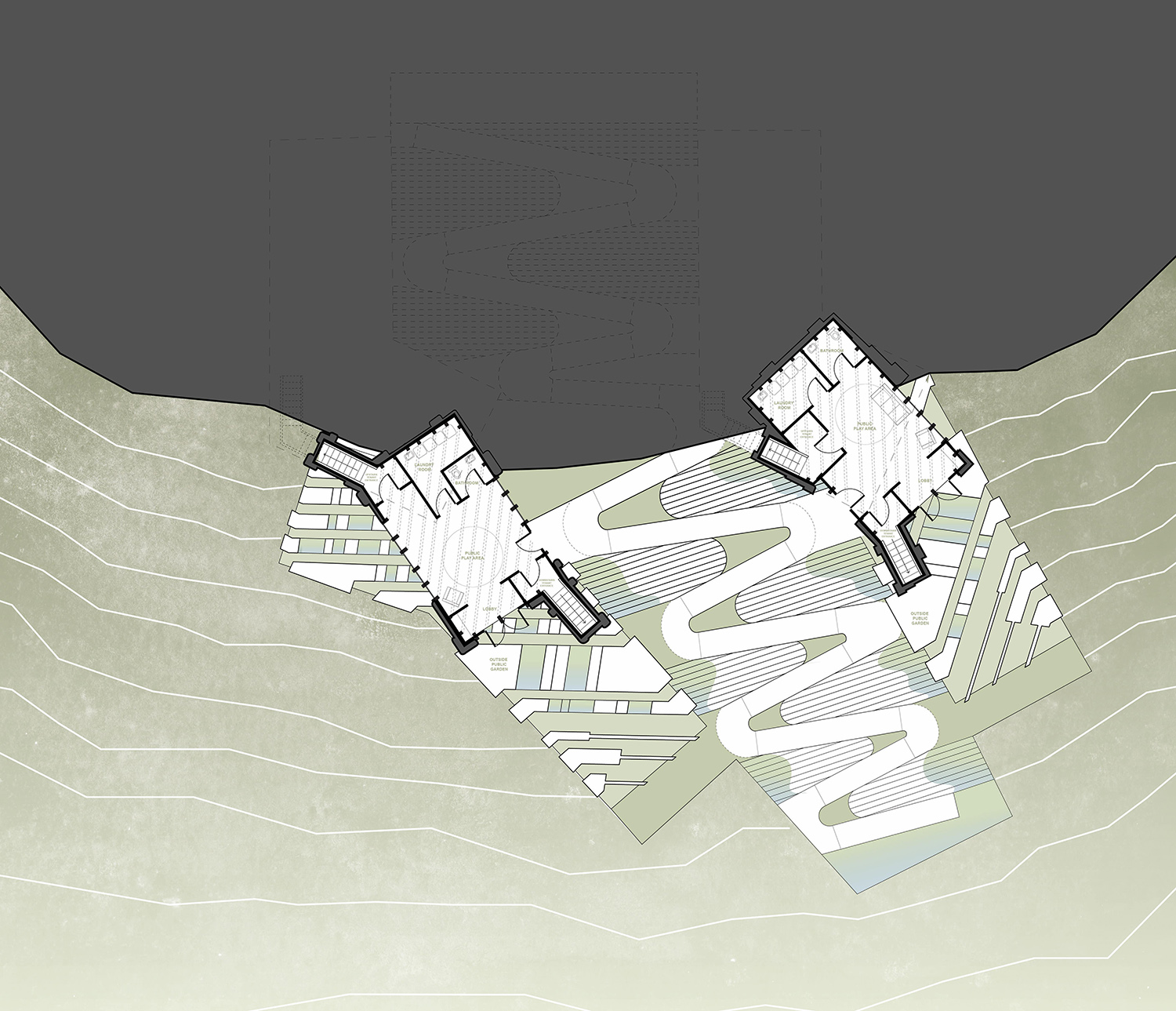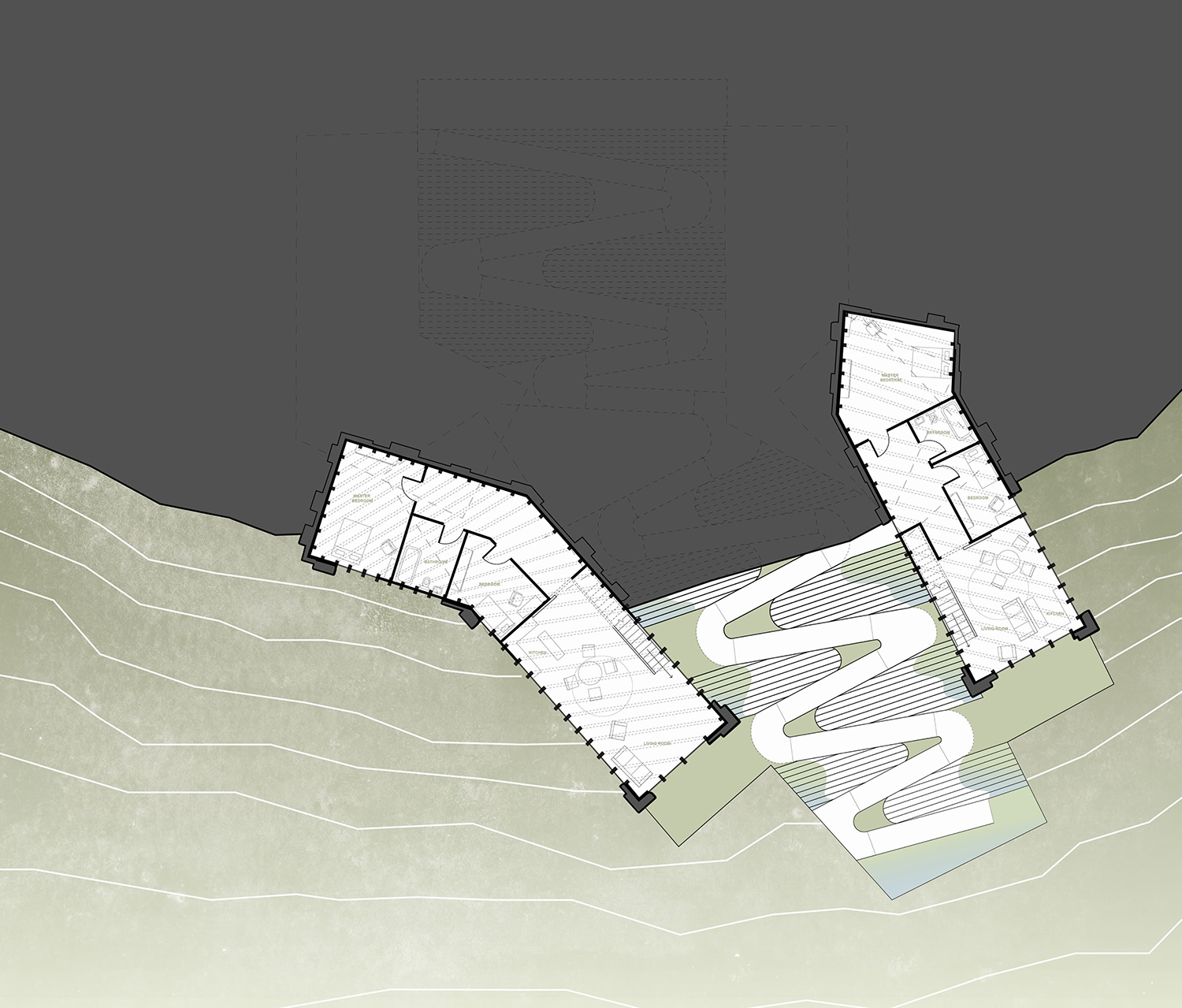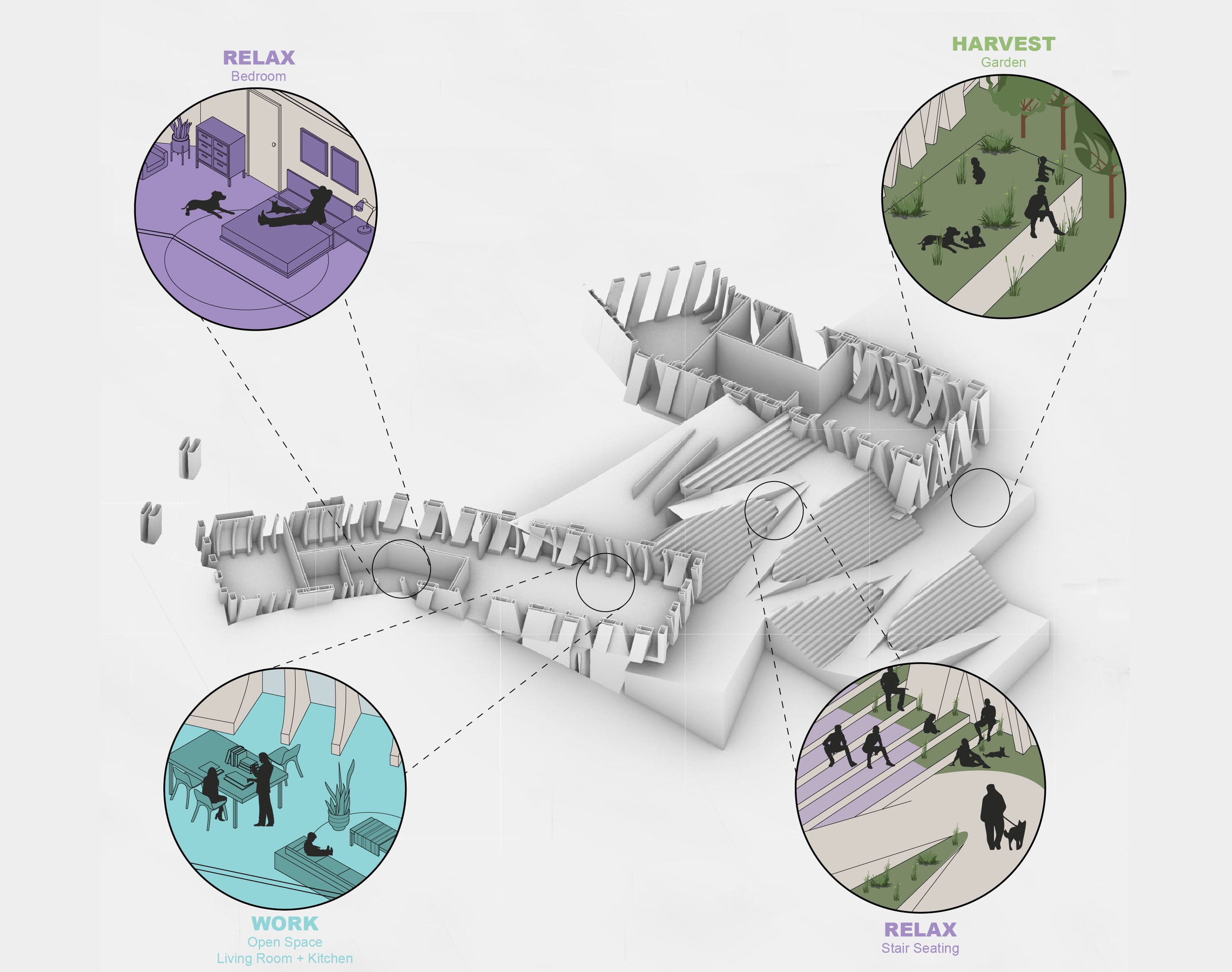 Different flow processes: ecological, material, and social flows weaved together to co-exist with one another.

The Design Process Workflow utilizing Keyshot to identify ecological patterns onto the architectural form.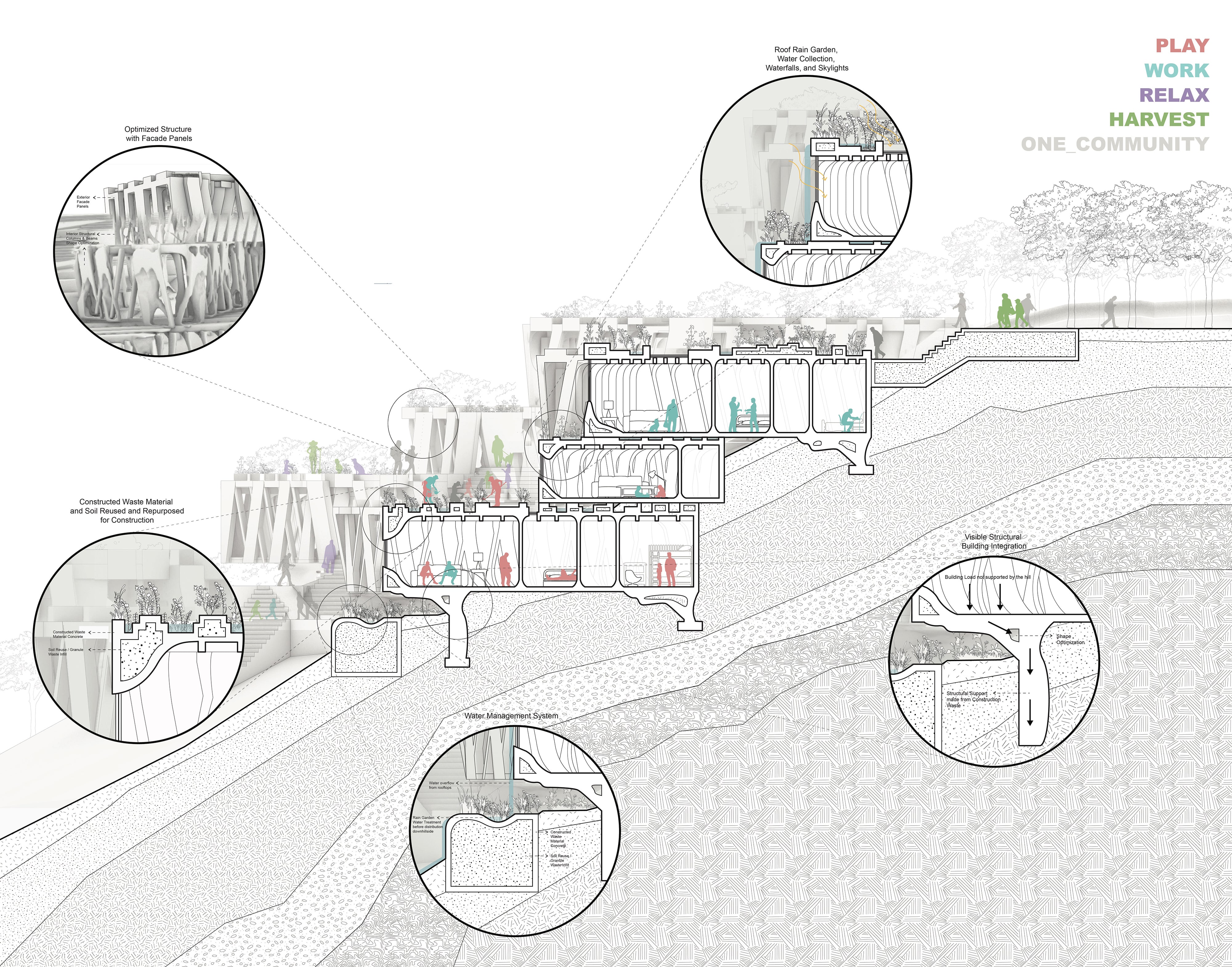 The different material and ecological flows integrated into the architecture.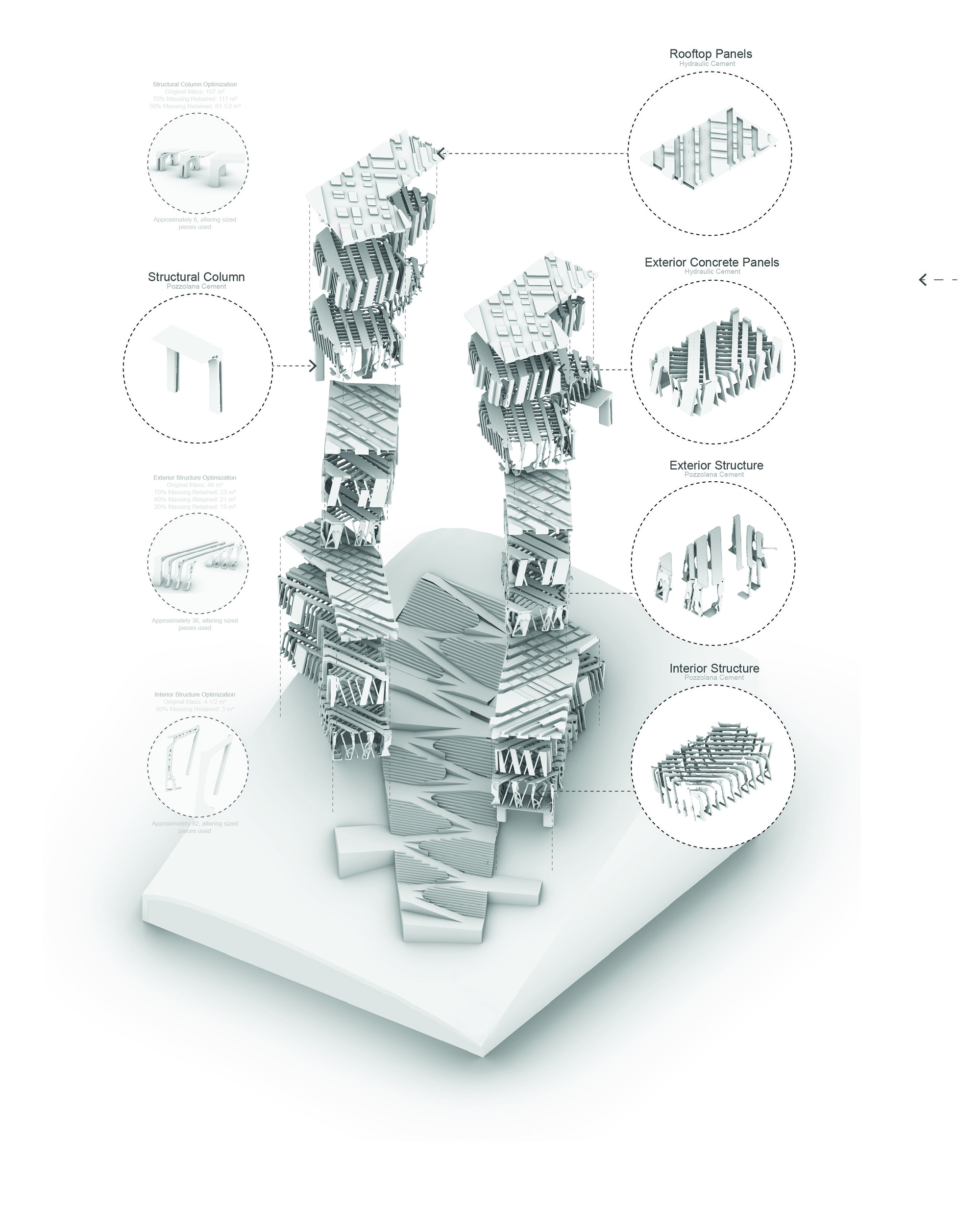 Different Components of the Structure and Component Optimization to reduce weight, reduce cost, and save material.
How the different spaces sit on top of one another.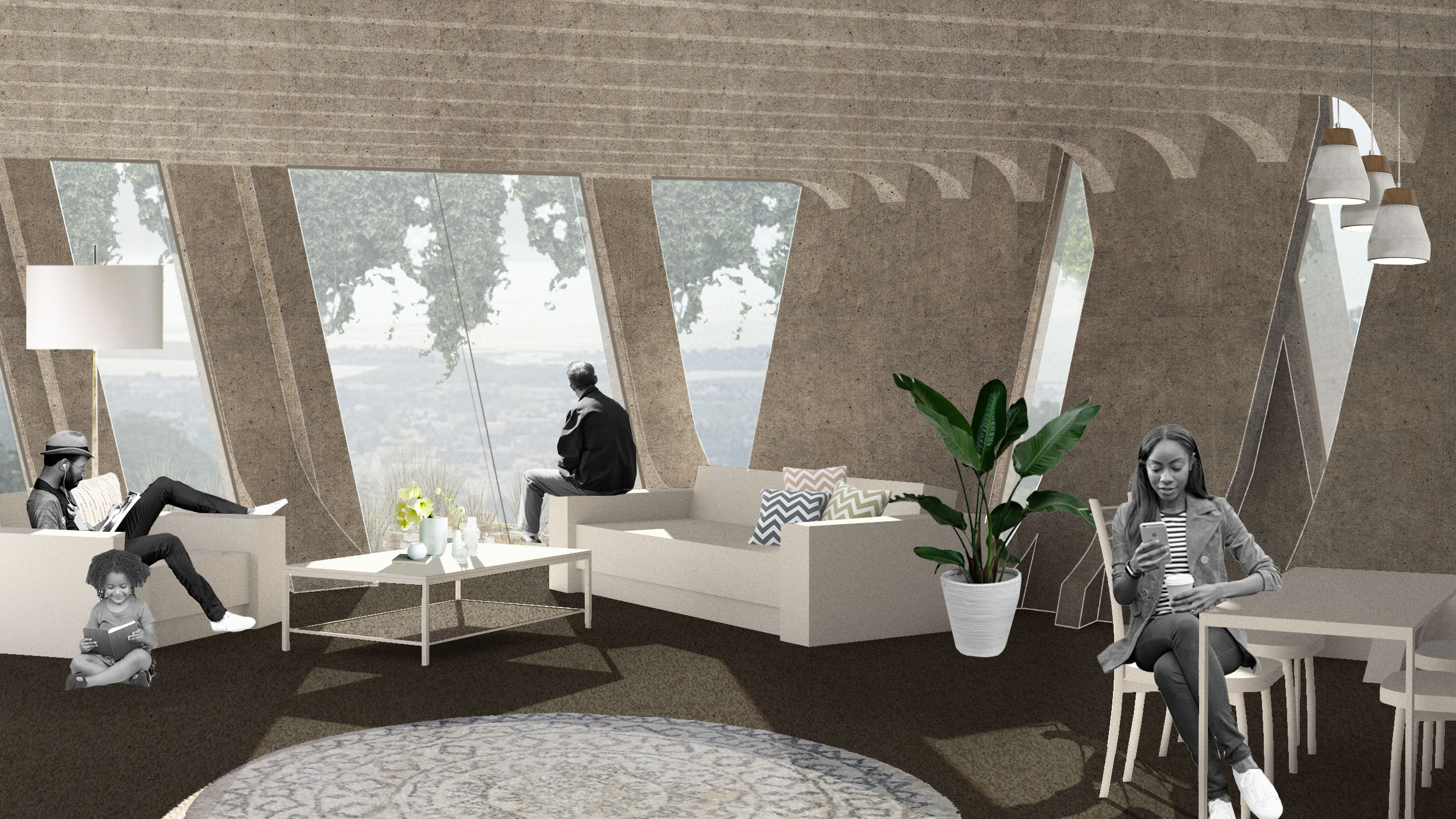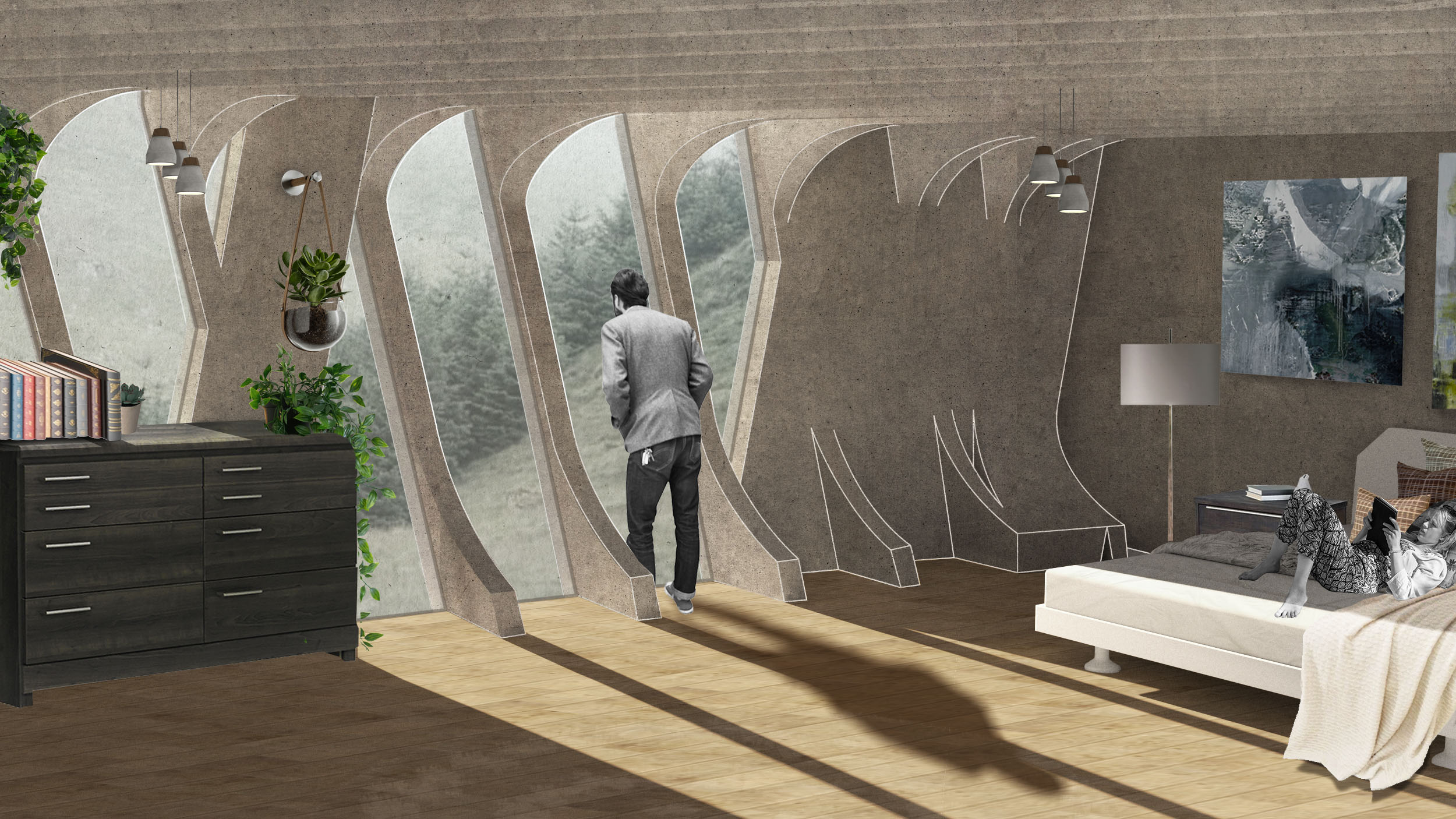 Living Room and Bedroom spaces in the housing units.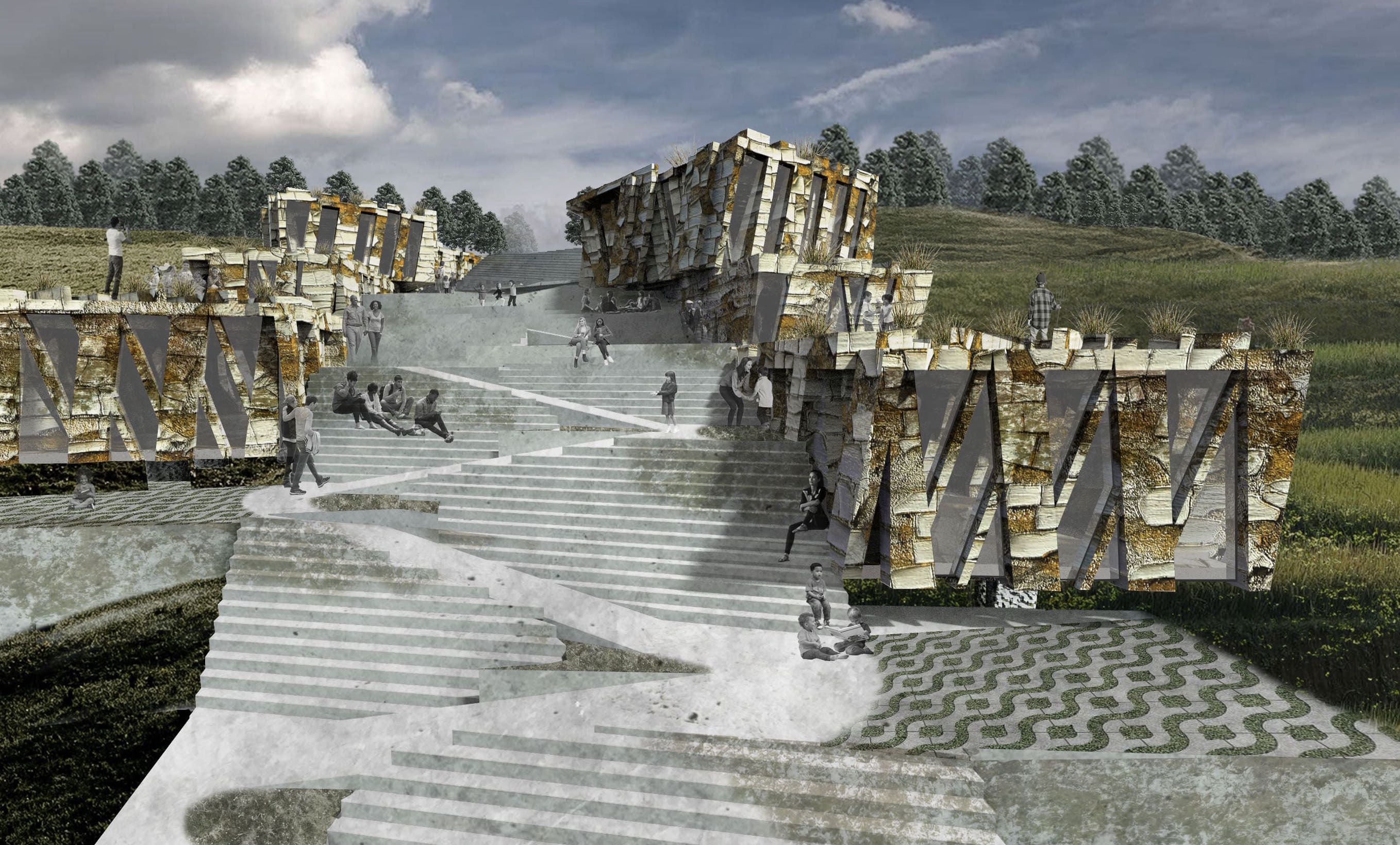 Looking up from the end of the central greenhouse.